Yamaha SVV-200 Silent 16" Viola, Brown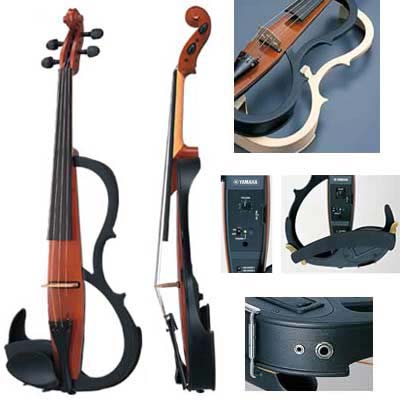 Catalog ID:
EIVAYAMSV20/1N
Yamaha's SVV200 Silent Viola's standard 16" scale and full-sized frame will make a violist feel comfortable from the start.
Full-Sized Frame: While providing a more natural feel, its all-wood full-sized frame is finished with a special black matte finish and can accommodate nearly any standard chin and shoulder rest.
Dual Pickups Offer Greater Dynamic Range: A two pickup configuration delivers greater sonic "resolution" thereby increasing the dynamic range of the instrument. This allows the violist to play from pianissimo to fortissimo with greater clarity while delivering more of the nuances produced by the bow and playing techniques.
EQ Control: A special circuit designed by Yamaha isolates and controls the instrument's upper harmonics, which have a great influence on the overall tone. Modifying the tonal color makes it possible to adjust to individual playing styles, room conditions, the PA system, etc.
Quality Electronics: Noise free circuitry and line out impedance optimized for use with professional audio equipment make the Silent Viola excellent for use on stage or in studios where quality sound is a must. An EQ mode switch lets you skip the built-in EQ's default setting to take advantage of high-end equalization and tone controls available with professional audio equipment.
Specifications:
Strings Length: 375mm (14-3/4")
Body Length: 406mm (16")
Neck: Maple
Body: Spruce
Finger Board: Ebony
Bridge: Maple
Frame: Plywood
Tail Piece/Chin Rest: Ebony
Peg/End Pin: Ebony
Tuning Adjuster: 1 (for A-string)
Sensor: Piezo Pickup
Electric Control: Volume, EQ Control, EQ Switch
Outputs: Line Out, Headphone Out
Battery: DC9V, S-006P
Standard Accessories: Earphone, DC9V, S-006P
Weight:
4.8 lbs