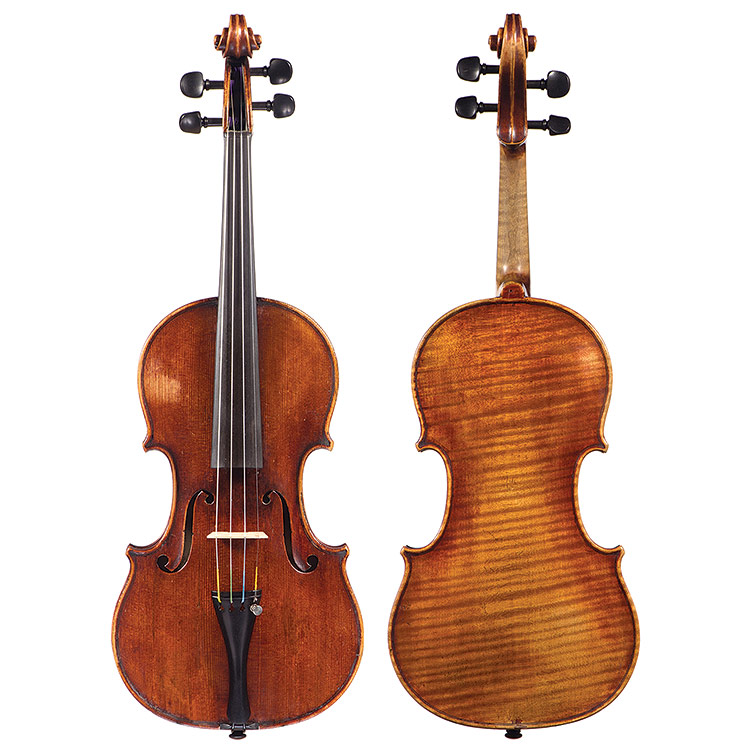 Featured Violin
About Paul Bailly
French luthier Paul Bailly was born in 1844 in Mirecourt and died in 1907 in Paris. He studied with Jules Gaillard in Mirecourt, then with two makers of the celebrated Vuillaume family: Nicolas François in Brussels, and his more renowned brother Jean-Baptiste, who headed the most important workshop in Paris in the 19th century. Bailly traveled widely to practice his craft, working in England, the United States, and several French cities before settling in Paris in 1898. An exceptionally skilled and highly prolific maker of primarily Stradivari models, Bailly's instruments won top awards at prestigious exhibitions. His daughter Jenny Bailly, also an accomplished maker and one of the few known female luthiers from the early 20th century, inherited his workshop after his death.
About this violin
Sold with a certificate of authenticity from Jean-Jacques Rampal.
Paul Bailly | Paris 1902 | Length of back: 357 mm | 4/4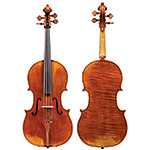 Featured Viola
About Andrew Ryan
American maker Andrew Ryan trained with Peter Paul Prier at the Violin Making School of America in Salt Lake City, Utah, and with Adam Whone and Edward Withers in London. As workshop manager at Reuning & Son Violins in Boston from 1994 to 2011, Ryan oversaw the restoration of many fine and important instruments.
Ryan is currently a teacher at the Violin Society of America's Oberlin Workshops, a frequent lecturer at violin making conferences, a consultant with Reuning & Son Violins, and a published author in The Strad, where his articles on the work of Guarneri del Gesù have appeared.
Ryan builds new instruments according to the methods of the great Cremonese masters, his own instincts as an active violinist himself, and his ongoing acoustical research. His violins are owned by professional musicians around the world.
About this viola
Andrew Ryan | 1989 | Length of back: 416 mm 16" up to 16 1/2" | 16 3/8"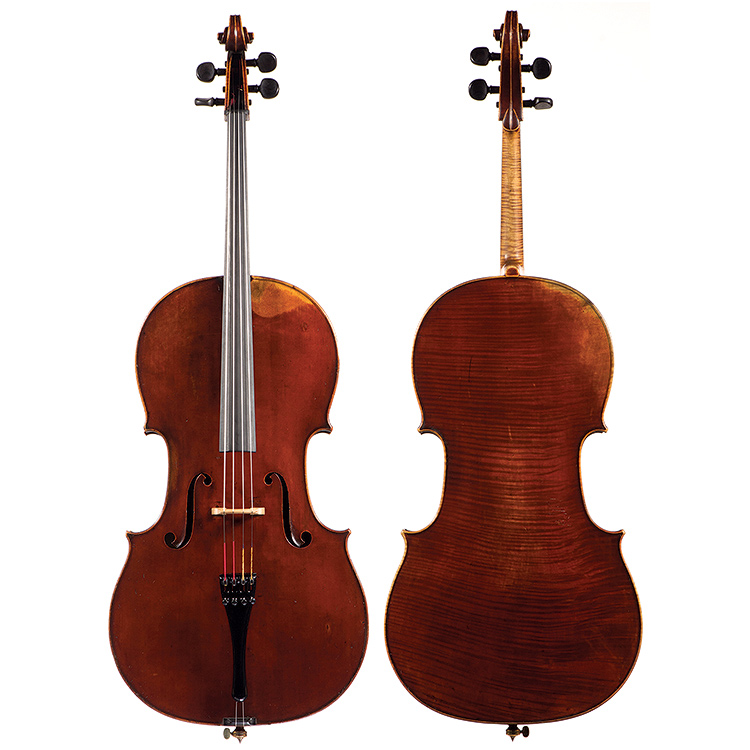 Featured Cello
About Gabriel Adolphe
Gabriel Adolphe Thibout was born in Paris, France in 1804 and died there in 1858. He studied with his father, Jacques Pierre Thibout (1779 - 1856), an acclaimed maker appointed to the Royal court, Paris Opera, and Paris Conservatory. Adolphe took over the management of the Thibout workshop in 1838, working with his brother, Gabriel Eugène Thibout (1825 - 1908). Adapting his father's violin making style, Adolphe developed his own instrument models, including a copy of a Guarneri del Gesù model owned by Pierre Rode, the Parisian violin virtuoso and an acquaintance of the Thibouts. Upon Adolphe's untimely death in 1858, Eugène inherited the family business and took custody of his brother's young son, Albert Thibout (1839 - 1865), who in turn took over the workshop in 1861. Upon Albert's premature death four years later, the Thibout business was sold to Gand Frères.
About this Cello
Sold with a certificate of authenticity from Reuning & Son Violins.
Gabriel Adolphe | Paris 1857 | Length of back: 760 mm | 4/4