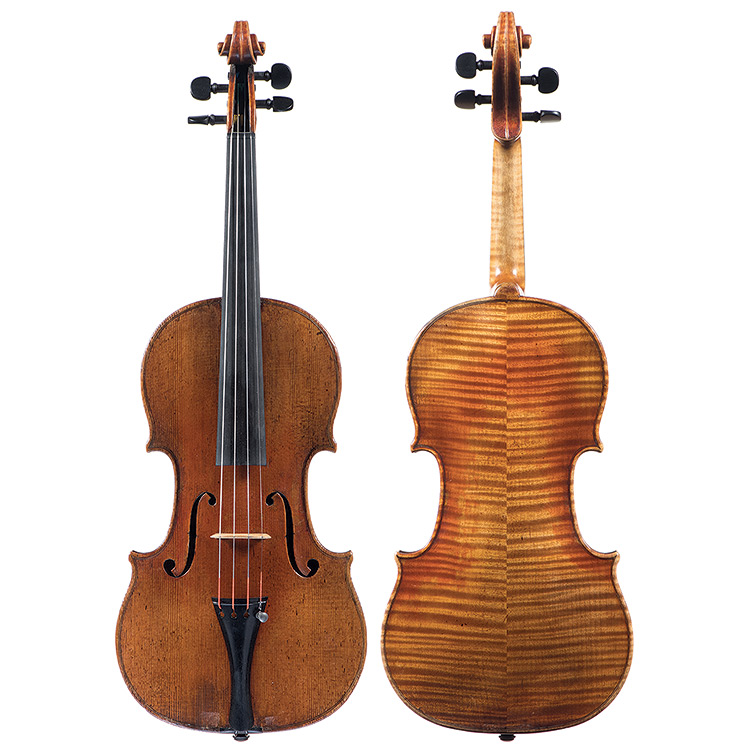 Featured Violin
George Gemünder violin, New York 1851
The celebrated Gemünder family of violin makers began with Johann Georg Heinrich Gemünder (1782-1836), who served as the luthier for the Princes of Hohenlohe in Ingelfingen and Öhringen, Germany. The maintenance of the Hohenlohe family's collection of bowed instruments-which included a quartet by Stradivari-was entrusted to the Gemünder workshop, where Georg Sr.'s three sons, August Martin Ludwig (1814-1895), Johann Georg, Jr. (George 1816-1899), and Albert (1819-1885) assisted their father before pursuing their own careers. Among the earliest important makers to emigrate from Europe to the United States, all three Gemünder brothers arrived in the U.S. by 1847, bringing the high standards of European instrument making to early American lutherie.
About this violin
George Gemünder | New York 1851 | Length of back: 358 mm 4/4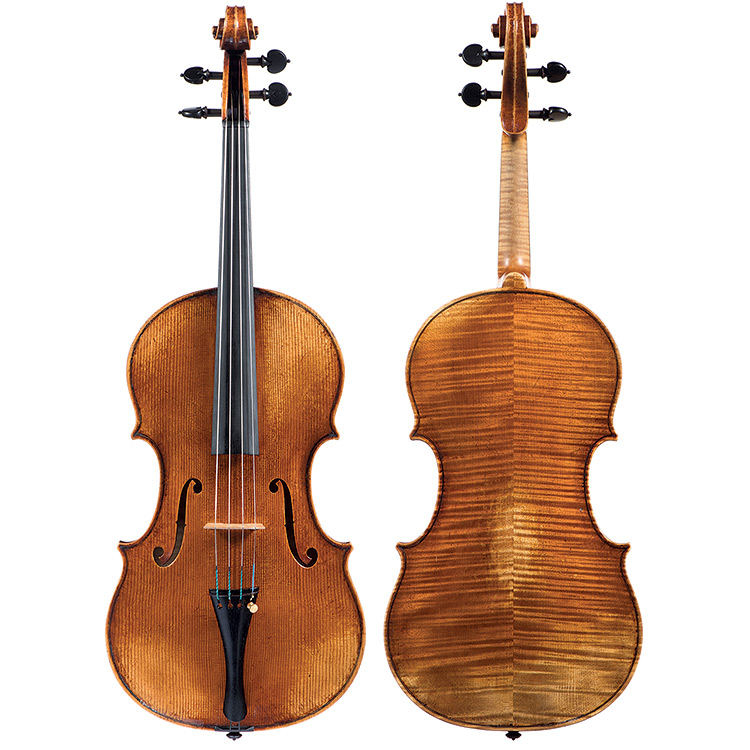 Featured Viola
About Jason Viseltear
Jason Viseltear began his violin making career working with Robert Brewer Young, with whom he established the business Viseltear & Young in Manhattan in 1995. Viseltear continued his studies with Brice Dupin de Saint Cyr, Michael Sheibley, and François Denis, and since 2006, has run his own business crafting contemporary and Baroque model instruments. He works with leading makers and researchers at the annual Violin Society of America Workshops held at Oberlin College, focusing on the methods of classical masters as well as current innovations.
Viseltear has won numerous awards for his instruments, including a Gold Medal for viola and a Certificate of Merit for quartet in the 2014 Violin Society of America competition. Past VSA awards include a Silver Medal for quartet tone and Certificates of Merit for violin tone and viola tone in 2012. His instruments are in the hands of top professionals as well as in conservatory and private collections, including Juilliard, Harvard University, Colburn Conservatory, and Yale. He is a member of the American Federation of Violin and Bow Makers and has been featured in interviews for Loyal magazine as well as the Wall Street Journal.
About this viola
Jason Viseltear | New York 2021 | Length of back: 419 mm 16 1/2" and larger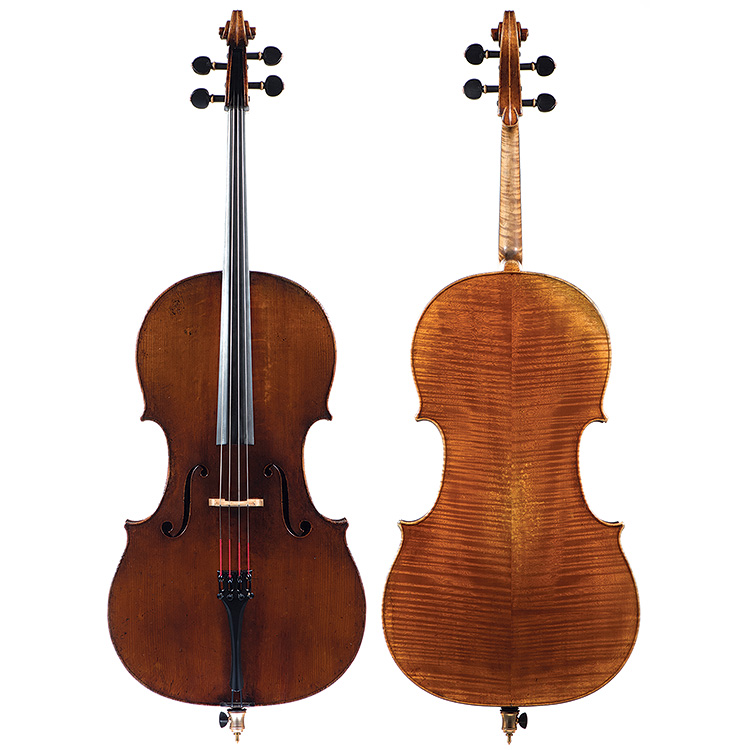 Featured Cello
About Jean-Baptiste Vuillaume
Remembered by history as much for his richly eventful life and unequaled success as an inventor, entrepreneur, and connoisseur as for his stature as a luthier, Jean-Baptiste Vuillaume (1798 - 1875) nonetheless is widely regarded as the greatest French violin maker of all time, with over three thousand instruments to his name and only Nicolas Lupot standing as a potential rival to such title.
The second son of luthier Claude-François Vuillaume IV of Mirecourt, the young Jean-Baptiste apprenticed with his father in Mirecourt until 1818, around which time he began to maintain professional contact with key figures in the Parisian violin trade. His reputation grew quickly and by 1828 he had established his own independent workshop at 46 rue Croix des Petits Champs. He kept many of the greatest French luthiers in his employ, namely his brother Nicolas François and then Hippolyte Silvestre, who remained until 1831 and was followed by Honoré Derazey, Charles Buthod, Charles Adolphe Maucotel, and George Gemünder to name a few. He also employed many of the greatest French bowmakers, including Persoit, Dominique Peccatte, Fonclause, Maline, Pierre Simon, Francois Peccatte, François Nicolas Voirin, Lenoble, Jean-Joseph Martin, Charles Peccatte, Prosper Colas, Justin Poirson, Hermann Richard Pfretzschner, Johann Christoph Nürnberger, Ludwig Bausch, and Charles Claude Husson among others.
In 1836, Vuillaume was entrusted by Nicolo Paganini with the repair of his beloved 1743 Guarneri del Gesù violin, known as "Il Cannone", and he took the opportunity to make a copy of that famous instrument. As tradition has it, upon the completion of the repair, Vuillaume presented his copy to Paganini side by side with the original, challenging Paganini to distinguish between the two, which Paganini was able to do only with great difficulty. After being played by Paganini's only known student, Camillo Sivori, Vuillaume's copy now remains beside the original del Gesù violin in the Genoa town hall.
The list of celebrity violinists who have owned and played Vuillaume's instruments is long and illustrious, including names such as Fritz Kreisler, Eugène Ysaÿe, Henri Vieuxtemps, Joseph Joachim, Ferdinand David, Charles de Beriot, Efrem Zimbalist, Toscha Seidel, Joseph Hassid, Isaac Stern, Arthur Grumiaux, Pinchas Zukerman, Andres Cardenes, Hilary Hahn, and Vilde Frang, among many others.
In 1855 Vuillaume had his greatest success as an entrepreneur in his purchase of the collection of the Italian collector Luigi Tarisio, which included the 1716 'Messiah' violin by Antonio Stradivari and many other remarkable Cremonese instruments. This inventory made him the most important dealer in Europe and gave his workshop endless inspiration. In terms of his inventive activity, Vuillaume is remembered for the radical cornerless violin designs commissioned by him of François Chanot in 1818, as well as for ambitious ventures such as the gigantic Octo-Bass, now preserved in the Musée de la Musique in Paris. This is all in addition to his many innovations in bow making, including the hollow steel bows made c.1834-1850, and the self-hairing bow which he patented in 1835.
As a scholar, Vuillaume cooperated with the acoustician Fèlix Savart on theoretical approaches and varnish research as well as with the writer François-Joseph Fetis, whose seminal work "Antoine Stradivari, luthier célèbre connu sous le nom de Stradivarius" Vuillaume both contributed to and published.
Vuillaume was awarded numerous medals at Paris in 1829, 1833, 1839, and 1844. He also received the Council Medal at the London exposition in 1851 and was elected to the Légion d'Honneur by the French Government.
Sold with a certificate of authenticity from Jean-Jacques Rampal.
About this Cello
Jean-Baptiste Vuillaume | Paris circa 1840-45 | Length of back: 759 mm 4/4