Francesco Toto cello, Cremona 1998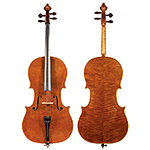 Francesco Toto cello, Cremona 1998
Born in Lecce, Italy in 1972, Francesco Toto studied at the G. Pellegrino Institute for Art in Lecce and the International School of Violin Making in Cremona.
Toto is an award-winning maker, placing third in 2001 and second in 2005 at the International Violin Making Competition in Mittenwald, Germany. In addition to numerous other accolades, he won first prize at the 2006 Cremona Triennale lutherie competition. He is a member of the Cremona "Antonio Stradivari" Consortium of Violin Makers and the Violin Society of America.
Toto has maintained his own workshop in Cremona since 1996.
Length of back: 742 mm 4/4
Request More Information